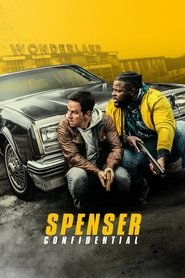 Spenser Confidential
(2020)
Movie
|

Play Trailer
|
English
|
Status: Post Production
|
1h 50m
|
March 6th 2020
|
Crime, Drama, Mystery, Thriller
Spenser — an ex-cop better known for making trouble than solving it — just got out of prison and is leaving Boston for good. But first he gets roped into helping his old boxing coach and mentor Henry, with a promising amateur. That's Hawk, a brash, no-nonsense MMA fighter convinced he'll be a tougher opponent than Spenser ever was. When two of Spenser's former colleagues turn up murdered, he recruits Hawk and his foul-mouthed ex-girlfriend Cissy, to help him investigate and bring the culprits to justice.
Where can you stream Spenser Confidential?
Spenser Confidential is set to premiere on Netflix on March 6th 2020.
Cast
Featured Comments/Tips
None of your fellow streamers have left comments/tips yet.
Leave one?
Featured User Reviews
None of your fellow streamers have a review yet.
Leave one?
You might also like...
Videos